The main motivator of this growing inventory is the delusional prices being asked by sellers are no longer generating massive amounts of sales from house lusting buyers.  In other words, sky high prices have caused many homes to sit on the market longer thus allowing for more inventory to accumulate like a queue forming at a Disneyland ride.  Can't blame the sellers if suckers are lining up to hand over their cash for a mortgage albatross.  The rapid increase in prices uncoupled from wages has left many California household unable to afford current prices.  House lusting Californians are either hot or cold on real estate.  Rarely are emotions in the middle in this manic state.  The market has been sizzling for the last few years mostly because of speculators and Wall Street hot money flowing into the market. Sales volumes are incredibly low thus reflecting a distorted market.  Those lusting for houses will simply dive in regardless of larger macro-economic trends and are largely chasing past gains as a predictor of future trends.  It is no surprise that inventory is rising and prices are stalling out.
Those "all cash" sales still remain a big part of the market.
California housing inventory
There is little surprise that inventory is picking up this year and we are seeing more homes sit on the market for much longer durations.  In certain markets, house yearning buyers are so motivated that they will still dive in regardless of the larger trends.  Some areas will always carry a premium.  Yet the overall trend is unmistakable.
Take a look at the rising inventory across California: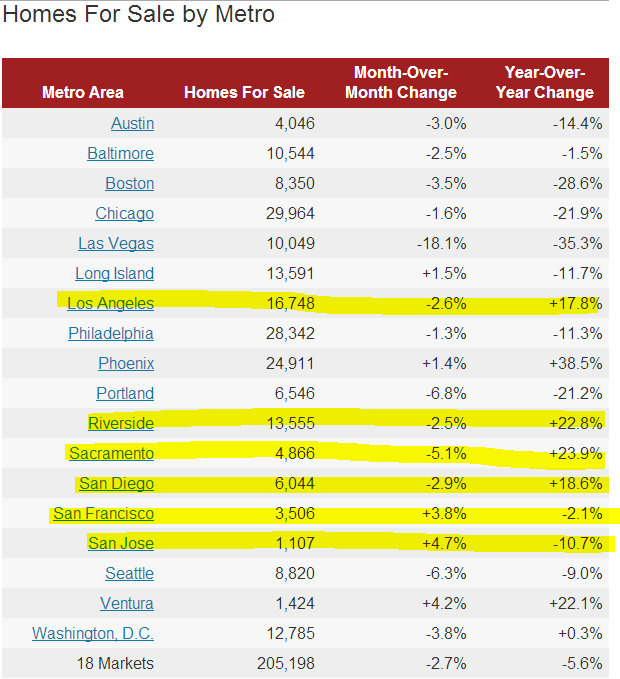 For Los Angeles, inventory is up a solid 17.8 percent year-over-year.  Riverside is up 22.8 percent.  Sacramento is up a whopping 23.9 percent.  San Diego is up 18.6 percent.  Ventura is up 22.1 percent.  In other words SoCal has a growing share of inventory.  The Bay Area is bucking this trend with inventory actually down year-over-year.
A big reason for this is the fast rise in prices in 2013 coupled with low inventory: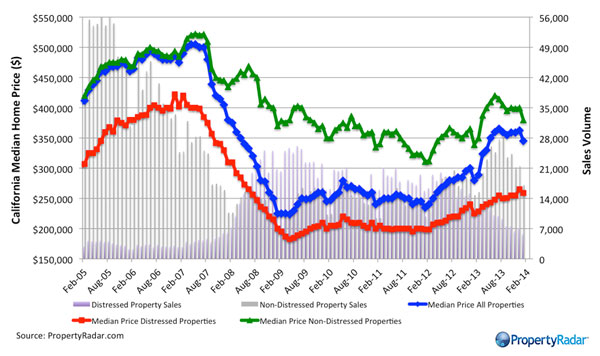 Based on the data above, California home prices went up roughly 30 percent from 2012 to the current price level.  Yet look at sales volume above showing a very weak start to 2014.  The trend is definitely softening.  Cash sales remain a big part of the market but overall the nominal number of transactions is falling: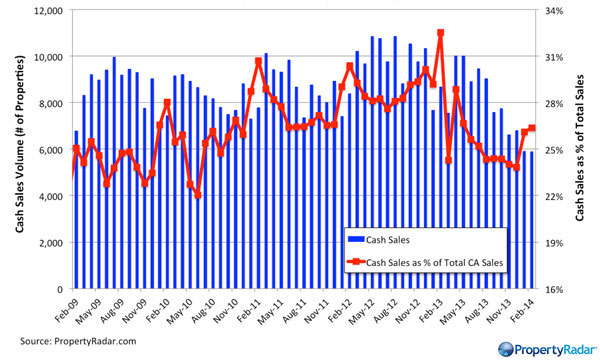 At the peak over 10,000 cash sales a month were taking place.  Today they are below 6,000 (a 40 percent drop in overall volume).  However, cash sales remain a big part of the overall percentage of sales still making up over 26 percent of all sales in the state.  Most of the big cash sales may happen via auctions or deals negotiated with banks hence the discrepancy in cash sales figures between different sources.  Based on that, it is safe to say that cash sales remain between 30 and 35 percent of all single family home sales in the state but certainly are dropping from their peak.
The underwater home owner
California still has a large number of home owners underwater on their mortgages: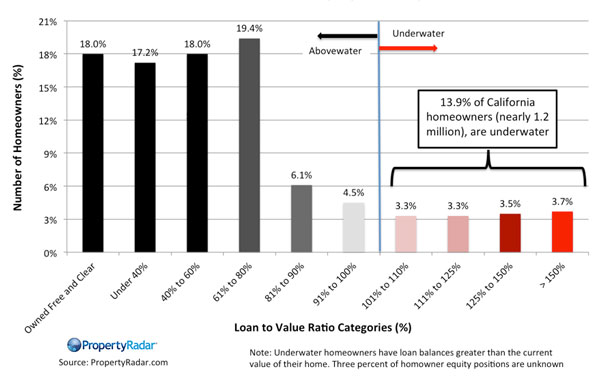 1.2 million home owners are underwater in the state.  It is very likely that home prices will stall and likely fall year-over-year statewide by the end of the year if the current trend continues.  How this will impact the fragile psychology of California buyers and sellers is yet to be seen.  Lust and rejection seem to be the two temperatures for California housing.
There are a few signs of tipping points in markets.  One is rising inventory coupled with falling sales.  Check.  Another is prices stalling out or reversing.  Check.  Another is euphoric asking prices on condos which usually tip over first before single family homes.
Please contact us  to help you sell your home and find the home of your dreams!  We specialize in Laguna Beach, Newport Beach, Dana Point, San Clemente and our inland coastal communities.
Make it a great day!
Jeff